Dental

Bonding Sherman Oaks
Dental Bonding services offered in San Fernando Valley, Sherman Oaks, CA
Dental bonding is a cosmetic procedure. To start the process, your dentist uses a tooth-coloured composite resin material that is applied to your teeth to improve your smile. Bonding can improve the appearance of teeth that are chipped, cracked, broken, stained or have gaps between them. Bonding your front teeth usually requires minimal preparation of the tooth. Anaesthesia is usually not required unless there is an old restoration or decay present. The tooth is roughened using a conditioning gel to help the bonding material adhere to the tooth. After this, the composite resin is applied and hardened with a curing light. Your DHA dentist will then shape and polish the resin to get the final appearance.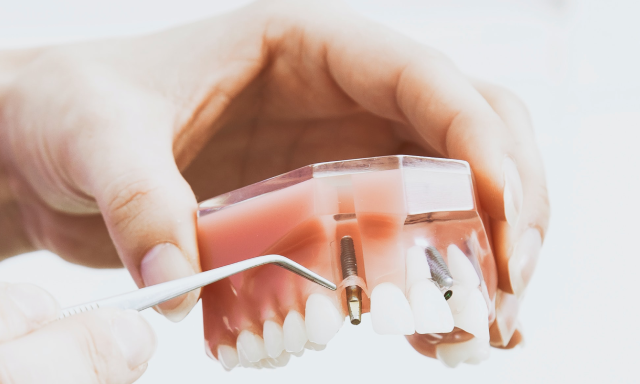 Why do you need Dental Bonding?
Dental bonding usually can fix a defect or imperfection within a tooth. Some people use bonding to repair a discoloured, cracked, decayed tooth. This procedure can also cover small gaps in between teeth. Dental bonding can also help to increase the size of a tooth. For example, maybe you have a tooth that's shorter than the rest, and you prefer all to be of the same length, dental bonding is the solution. Typically, dental bonding does not take much time, it takes between 30 to 60 minutes only. However, some appointments may run longer depending on the type of the procedure.
Dental bonding is a procedure that doesn't require anaesthesia unless you also need a filling or the dentist needs to dramatically change the shape of your tooth. You may need anaesthesia if you chipped the tooth near your nerve, as the work could be painful. The first step involves choosing a composite resin colour that is as close as possible to the colour of your tooth. Your dentist uses a chart to make sure their choice is correct. Then, the dentist tries to bond the composite resin to your existing tooth. It starts by creating a rough surface and applying a bonding agent. The rough surface makes it easier for the liquid and the composite to stick properly. Then he adds the composite resin to the area and then moulds it to repair the damage. Then a UV light is used to harden it.
Advantages Of Dental Bonding
Dental bonding is a very good option for certain cosmetic situations. The advantages are as follows:
More affordable: The cost for dental bonding is more affordable than other dental cosmetic and treatment options. The amount that you will spend mostly depends on the number of teeth that needs to undergo this procedure. It is also an easy and simple treatment that never requires several dental visits. Thus, helps the patients save more time and money from visiting the dentist.
Helps in Hiding tooth imperfections: Dental bonding can solve a multitude of dental imperfections that are very common to most patients. It also hides minor cracks and chips caused by accidents or injuries. Patients may also do dental bonding to whiten stains caused by certain foods as well like smoking. Patients may also do this procedure in front teeth to replace specific areas in their teeth that are decayed. Lastly, patients may use it to reshape their tooth's structure to achieve a perfect angular shape of the tooth.
A good alternative to amalgam fillings: This procedure uses a composite resin that adds durability and strength to any weakened tooth. The composite resin blends well with a patient's natural teeth, unlike silver amalgam fillings. The silver amalgam has a distinct colour that makes it noticeable when applied to a patient's tooth.
Takes only a sitting: Although dental bonding costs are more affordable, the process is completely painless and safe. The dentist applies a chemical compound that will roughen the person's tooth and will make the gum bonding material adhere better to it. The dentist then applies the bonding resin in layers, depending on the required thickness to treat the tooth. Meanwhile, a cosmetic dentist will carefully shape the resin while it is still soft and then use a UV light to harden it. This process takes at least 30 minutes to an hour maximum to complete. It generally takes only a sitting to perform the procedure. However, at times the dentist may require a multi-session dental bonding for more extensive teeth corrections.
Disadvantages of Dental Bonding
There are few limitations with the composite resin material, so it is recommended to consult your DHA dentist about the best option for you. The disadvantages of dental bonding are:
Staining: Although excellent results can be achieved with dental bonding, the resin does stain over time. Crowns and veneers are better options and will be much more stain-resistant.
Durability: The material used in dental bonding is not as strong and long-lasting as porcelain veneers and crowns. It can very easily chip. With proper care, dental bonding can last three to seven years.
Dental Bonding Maintenance
Dental bonding is more susceptible to staining and chipping than other forms of cosmetic dentistry, special care is required to keep your bonded teeth look natural. Here are few tips to keep your dental bonding in tip-top shape:
Cutting down on coffee, tea, and red wine.
Quit smoking — not to mention that smoking also increases your risk of gum disease and oral cancer.
As dental bonding can chip easily, avoid biting your nails or chewing on hard objects, such as pencils, ice and raw carrots.
Calling your dentist is suggested if you notice sharp edges or if your teeth feel strange when you bite down. If required, dental bonding can be repaired or touched up.
As dental bonding does take some artistic skill for optimal cosmetic results, it's important to choose an experienced dentist for the procedure. It is suggested to ask your dentist to show you before and after photos of your dentist's previous dental bonding patients.
The cost of dental bonding usually varies based on location, the extent of the procedure, and the dentist expertise.