Sherman Oaks Smile Studio Get Your Perfect Smile with Invisalign Sherman Oaks Smile Studio!
Are you ready to smile like you've always dreamed of? Look no further than Sherman Oaks Smile Studio, the ultimate destination for transforming your smile through the synergy of cosmetic dentistry and Invisalign mastery. 
At Sherman Oaks Smile Studio, we believe that a confident smile has the power to light up a room, create lasting impressions, and boost self-esteem. We understand that a confident smile speaks volumes and have witnessed the power of cutting-edge techniques to help you achieve just that. 
Our commitment to transforming smiles and enhancing lives has led us to become a beacon of excellence in the field of dentistry. Specializing in the revolutionary Invisalign treatment, our studio is your destination for achieving a flawless smile discreetly and comfortably.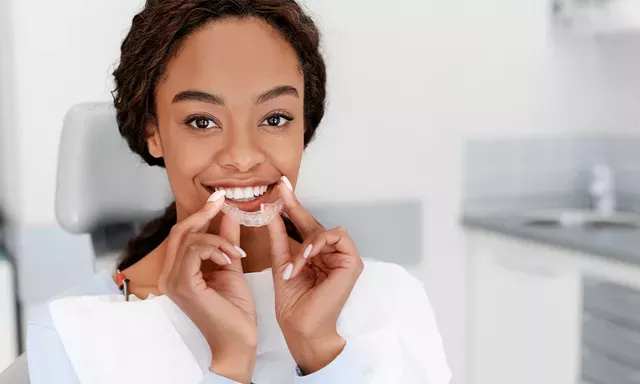 Invisalign Cosmetic Dentistry
Imagine the ability to align your teeth while enhancing their aesthetic appeal – a dream come true for many. At Sherman Oaks Smile Studio, we've carefully combined the artistry of cosmetic dentistry with the transformative potential of Invisalign. Our team of dedicated experts ensures that your journey to a confident smile is not only effective but also visually stunning.
Cosmetic dentistry is an art form, and we take pride in sculpting smiles that exude beauty and confidence. With techniques that range from teeth whitening and veneers to dental bonding and gum reshaping, our cosmetic dentistry services can address a variety of concerns. It enhances the overall appearance of your teeth and creates a pleasant smile that complements your facial features.
What Is Invisalign And How Does It Work?
Invisalign is the modern approach to achieving a beautiful smile. It involves using a series of custom-made, clear aligners that gently and discreetly fix teeth alignment. Unlike traditional metal braces, invisalign sherman oaks offer invisible braces for teens, allowing you to enhance your smile without drawing attention to the process.
Invisalign's innovative approach combines science and aesthetics to provide you with the smile you've always wanted, without compromising on comfort or appearance. It's an excellent option for both adults and teens seeking a discreet and effective solution for teeth alignment. 
Experience the transformational power of Invisalign and enjoy the journey to a confident and radiant smile with Sherman Oaks Smile Studio.
Meet Your Invisalign Specialist
Your journey to a captivating smile starts with a trusted partner. Our skilled Invisalign specialists are not only well-versed in the science of dental alignment but also possess an artist's touch. As the go-to "Invisalign specialist near me", we take pride in our ability to craft tailored treatment plans that cater to your unique needs. From your initial consultation to the final reveal, we are with you every step of the way.
Invisalign is a revolutionary approach to achieving straighter teeth without the inconvenience and appearance of traditional braces. Our specialists utilize state-of-the-art technology to create a series of custom-made aligners that gradually results in proper teeth alignment. 
The best part? These aligners are virtually invisible, allowing you to confidently go about your daily activities without the self-consciousness often associated with metal braces.
Why Sherman Oaks Smile Studio?
Our commitment to excellence sets us apart as the premier destination for Invisalign treatment. We take pride in offering:
State-of-the-Art Facilities: Our studio is equipped with advanced technology that ensures precise treatment and an unmatched experience.

Patient-Centric Approach: Your comfort is our priority. We tailor our services to ensure you feel at ease throughout your journey.

Invisalign Experts: Our specialists are certified and experienced in delivering exceptional Invisalign results, backed by a history of satisfied patients.

Proven Results: Join the ranks of individuals who have experienced the life-changing effects of Invisalign treatment at Sherman Oaks Smile Studio.
Invisalign: Beyond a Straight Smile
Invisalign isn't just about achieving a beautifully straight smile; it's about doing so discreetly and comfortably. Bid farewell to visible braces and enjoy the best invisible braces for teens- invisalign. Invisalign addresses a range of concerns, from overcrowding to gaps, all while preserving your natural appearance and addressing queries such as invisalign bumps on teeth.
Beyond the aesthetic benefits, Invisalign dentistry offers practical advantages. They are removable, making it easy to maintain proper oral hygiene by brushing and flossing as usual. Additionally, you can continue to enjoy your favorite foods without worrying about the dietary restrictions that often come with traditional braces. Invisalign specialists at Sherman Oaks Dental Care & Orthodontics will ensure that your treatment progresses smoothly, monitoring your progress and making adjustments as needed.
A Step-by-Step Journey to Radiant Confidence
Every journey begins with understanding your goals. Our initial consultation digs into your smile aspirations, addresses any concerns, and outlines a comprehensive treatment plan. This plan seamlessly integrates cosmetic dentistry invisalign expertise.
No two smiles are alike, and our specialists recognize this. With the aid of Invisalign's advanced technology, we curate a plan that not only aligns your teeth flawlessly but also complements your facial features, to give you a harmonious and captivating smile.
Comfort-Centric Treatment
Invisalign's virtually invisible aligners work diligently to shift your teeth progressively. Worries about "invisalign bumps on teeth" are swiftly resolved by our attentive team who ensure your journey is smooth and painless.
As your treatment advances, you'll notice your smile transforming, aligning flawlessly with your desires. Invisalign's removable nature ensures you maintain your oral hygiene with ease, allowing your newfound confidence to shine.
Sherman Oaks Dental Care & Orthodontics: Your Trusted Partner
Beyond being a dental clinic, Sherman Oaks Smile Studio is your ally in attaining a self-assured and stunning smile. With a prime focus on cosmetic dentistry and an unmatched grip on Invisalign dentistry, we stand as leaders in contemporary orthodontics. 
Our dedication to your comfort, contentment, and aesthetic aspirations sets us apart as the foremost choice for individuals seeking transformational dental care.
Begin Your Smile Transformation Today
At Sherman Oaks Smile Studio, your journey towards the smile of your dreams starts with a single decision. Whether you seek cosmetic dentistry, Invisalign expertise, or a combination of both, our team is poised to guide you throughout the process. 
Accept the influence of proper teeth alignment, the subtlety of invisible braces, and the elegance of cosmetic dentistry to show your genuine and radiant confidence.
Real Stories, Real Smiles
Don't just take our word for it. Explore the success stories of individuals who have chosen Invisalign Sherman Oaks Smile Studio. Witness their before-and-after transformations and discover the impact of a stunning smile on their lives.
Frequently Asked Questions
Have questions about Invisalign treatment? We've got answers. Explore our comprehensive FAQ section to gain insights into the treatment process, aligner care, and more.