Crowns services offered in San Fernando Valley, Sherman Oaks, CA
Each year, up to 2.3 million Americans get dental crowns to repair weak, damaged, or decaying teeth. If you have a cracked or chipped tooth, it's crucial to seek treatment. At Sherman Oaks Smile Studio, cosmetic and family dentist Niki Zarabian, DDS, and the team partner with dental labs in the area to design and manufacture custom crowns. Call the Sherman Oaks, California office, or book online today to make an appointment.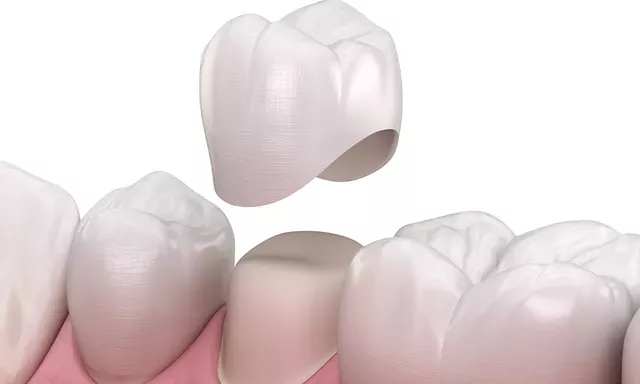 A dental crown is a cap made of porcelain or another synthetic material bonded on top of a permanent tooth. After the bonding material dries, the crown restores your tooth's shape and size. What's more, crowns allow you to bite and chew while reducing the risk of potentially serious complications.
Why are dental crowns needed?
At Sherman Oaks Smile Studio, Dr. Zarabian and the team use dental crowns to:
Protect weak teeth
Restore broken and/or worn down teeth
Cover dental implants
Hold dental bridges in place
Cover teeth after root canal therapy
You might also benefit from a dental crown if you have stains or discoloration that don't respond to cosmetic treatments, like teeth whitening.
What's the process for getting a dental crown?
At Sherman Oaks Smile Studio, getting a dental crown takes two visits.
First dental crowns visit
Dr. Zarabian reviews your dental records, conducts an oral exam, and takes X-rays of your tooth to assess the damage and/or decay. You qualify for a crown if a filling doesn't fix the problem. Dr. Zarabian numbs your mouth with a local anesthetic and removes your tooth's decaying or damaged portion. She cleans and rinses your teeth and takes digital impressions with an intraoral scanner. Then, Dr. Zarabian sends your impressions to a nearby dental lab that designs and manufactures a permanent crown. Before you leave, Dr. Zarabian covers your tooth with a temporary crown, allowing you to bite and chew.
Second dental crowns visit
When the dental lab finishes your custom crown, you return to Sherman Oaks Smile Studio. Dr. Zarabian replaces the temporary crown with the permanent one, polishes your teeth, and provides care instructions.
How do I take care of a dental crown?
You take care of a dental crown like you would your permanent teeth. The team at Sherman Oaks Smile Studio recommends:
Brushing your teeth twice daily
Flossing once daily
Visiting Dr. Zarabian twice a year for an oral exam and professional teeth cleaning
Wearing a mouthguard when playing sports
Avoiding bad habits like nail-biting or chewing on ice cubes
If you grind your teeth or clench your jaw, you might also benefit from wearing a nightguard. A nightguard will protect both your permanent teeth as well as any crowns from excessive wear and tear.
To see if you're a candidate for a dental crown, make an appointment at Sherman Oaks Smile Studio by calling the office or booking online today.