Veneers dentiest sherman oaks
Your Trusted Veneers Dentist - Sherman Oaks
Are you on the hunt for the ultimate smile transformation, and think about any veneer specialist near me? Look no further than veneer dentist, Sherman Oaks Smile Studio. 
It's your destination for achieving flawless, breathtaking smiles through the magic of veneers. Among our array of services, our veneer offering stands as a testament to our artistic mastery and dedication to creating smiles that are nothing short of extraordinary. 
As the leading veneers dentist Sherman Oaks, we take pride in being your go-to veneer specialist near you, dedicated to creating smiles that leave a lasting impression.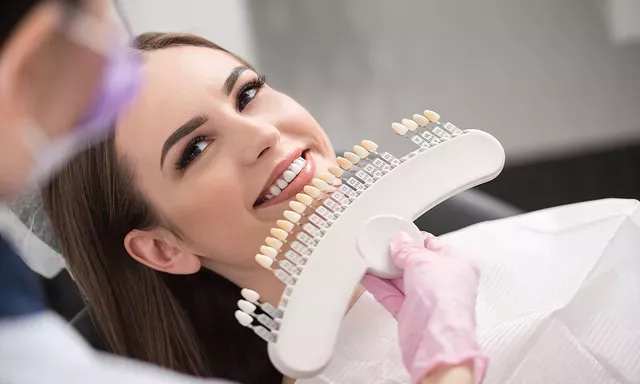 Creating Your Perfect Smile with Veneers Dentist, Sherman Oaks
Sherman Oaks Smile Studio understands the power of a captivating smile. Our veneer services go beyond expectations, whether you're looking to correct minor imperfections or desiring complete smile revitalization. 
If you have thought long about a dentist near me that does veneers, your search ends here with our team of veneer specialists who are committed to turning your smile dreams into reality.
Cosmetic Dentistry and Veneers
Our commitment to crafting radiant transformations is rooted in the seamless blend of cosmetic dentistry finesse and the transformative potential of veneers. Each veneer is more than just a dental enhancement – it's a canvas that holds the promise of an unparalleled smile. From white veneers teeth to whole mouth veneers, our expertise spans the spectrum, and offers solutions that match your individual needs.
Have you ever wondered how some smiles seem to effortlessly exude beauty and confidence? The secret often lies in the artistry of veneers – the enchanting pathway to a flawless, captivating smile. At Veneers dentist sherman oaks Smile Studio, we introduce you to the magic of veneers and shed light on how they work their transformative wonders.
Veneers are like the artistic touch that turns an ordinary canvas into a masterpiece. They are thin, custom-made shells crafted from high-quality materials like porcelain or composite resin. These shells are designed to cover the front surface of your teeth, transforming their appearance while preserving their natural strength. 
Veneers are the ultimate solution for those seeking to correct a range of imperfections, from discoloration to minor misalignments, and even chips or cracks.
Types of Veneers Available
Just as every canvas demands its unique stroke, every smile craves its distinct touch. At Sherman Oaks Smile Studio, we present an array of veneer types that cater to your individuality, crafting smiles that are as unique as you are. Discover the captivating world of veneers, where beauty meets innovation.
Porcelain Veneers Sherman Oaks Simple Studio
Like finely crafted porcelain, these veneers exemplify elegance and precision. Porcelain veneers are custom-made shells that are meticulously designed to cover the front surface of your teeth. At Sherman Oaks Smile Studio, we master the art of porcelain veneers, using high-quality materials to ensure a natural, luminous appearance. With porcelain veneers, you're not just enhancing your smile; you're elevating it to a world of unmatched beauty.
Composite Veneers Sherman Oaks Smile Studio
Imagine a sculptor molding clay to create a masterpiece. That's the essence of composite veneers. These veneers are sculpted directly onto your teeth using a composite resin material. 
Veneers dentist Sherman Oaks Smile Studio use the artistry of composite veneers, carefully shaping and shading them to match your unique facial features. The result? A smile that's a true reflection of your individuality.
Smile Transformations, Your Way
We believe that your smile transformation should align with your preferences. Therefore veneer dentists, Sherman Oaks, allow you to choose the type that resonates with your vision. Whether you're drawn to the elegance of porcelain veneers in Sherman Oaks or the personalized touch of composite veneers near you, we're here to bring your dream smile to life.
Crafting Your Veneers Transformation
Personalized Consultation
Your journey begins with an in-depth consultation. Here, we listen to your smile aspirations. As the best cosmetic dentist for veneers near you, we tailor a treatment plan that aligns with your unique desires, offering solutions like composite veneers.
Our specialists meticulously design each veneer, from porcelain veneers in Sherman Oaks to composite options. Each veneer is a work of art, shaped and shaded to complement your facial features and ensure a harmonious, natural appearance.
Applying veneers demands precision and skill. Our seasoned professionals, recognized for their expertise in veneers in Sherman Oaks, ensure that each veneer is bonded with the utmost care, delivering not only visual perfection but also functional comfort.
As your veneers progress, you'll witness the transformation firsthand. The result of this journey is a radiant smile that embodies your confidence, making you shine in every interaction.
Veneers Dentist Sherman Oaks Los Angeles CA
When it comes to transforming your smile with veneers, choosing the right dental partner is a decision of paramount importance. Veneers dentist Sherman Oaks Smile Studio understand the significance of this choice, and we're here to showcase why we stand as the premier destination for your veneer journey.
At Sherman Oaks Smile Studio, veneers are more than just a service – they are a testament to our commitment to artistic excellence. Our veneer specialists bring a wealth of experience to the table, ensuring that your veneer journey is guided by skill, precision, and an innate understanding of the science and art of veneers.
Our dedication to delivering exceptional results drives us to stay at the forefront of dental technology. From the latest equipment to innovative techniques, we follow advancements that guarantee precision and perfection in every veneer application. When you choose Sherman Oaks Smile Studio, you're choosing the benefits of contemporary dental technology.
Personalized Patient-Centric Approach
Your comfort, satisfaction, and dreams are the cornerstones of our approach. We believe that every smile is unique, and as such, we tailor our services to provide an experience that resonates with your individual preferences. From your initial consultation to the final reveal, your journey is guided by our commitment to your well-being.
Comprehensive Range of Veneer Options
Our expertise extends beyond traditional veneers. Whether you're interested in porcelain veneers Sherman Oaks, or you think about composite veneers near me, or any other type of veneer, we offer a comprehensive range of options to cater to your needs. We're not just veneers specialists – we're your partners in crafting a smile that reflects your unique radiance.
Testimonials of Transformation
Real stories, real smiles – our satisfied patients stand as a testament to the transformative power of our veneers services. Explore our success stories and witness the before-and-after impact that veneers have had on individuals just like you. Your dream smile is not just an aspiration; it's a reality waiting to be unveiled.
Convenience matters, and being your veneers dentist, Sherman Oaks Smile Studio ensures that achieving your dream smile is a hassle-free experience. With our convenient location and commitment to providing exceptional patient care, your veneer journey becomes a seamless and enjoyable endeavor.
Are you ready to embrace the power of veneers for your smile transformation? So, you have got the answer to your question, "the best cosmetic dentist for veneers near me." Reach out to veneers dentist, Sherman Oaks Smile Studio today to schedule your personalized consultation. 
As the best veneers dentist, Sherman Oaks Smile Studio is here to turn your dream smile into reality. Your dazzling smile journey starts now – connect with us to illuminate your world with confidence and beauty!
Whether you're seeking the brilliance of white veneers teeth or the comprehensive impact of whole mouth veneers, let us guide you towards a smile that truly reflects your unique radiance. Don't settle for less than the best – choose Sherman Oaks Smile Studio for an unparalleled veneer experience that leaves you with a smile that's as unforgettable as you are!